A successful AirCyber Welcoming Event 2019!
Retour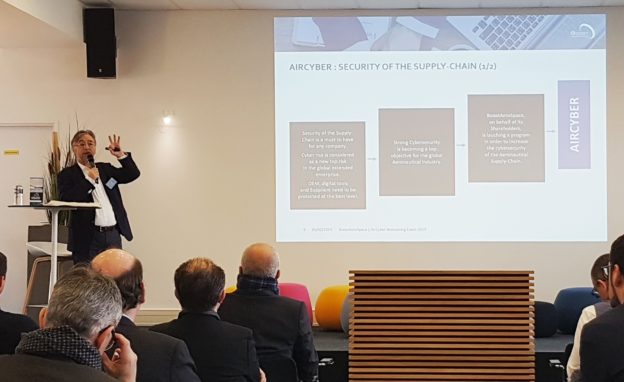 On February 20th, 2019, were gathered more than 40 industrial suppliers from the Aerospace and Defense Extended Enterprise for the first AirCyber Welcoming Event.
The welcoming event was a total success and has proven to be an encouraging start for AirCyber program.
Patrick FANGET, BoostAeroSpace President and Airbus SVP, introduced BoostAeroSpace, the Airbus, Dassault Aviation, Safran and Thales company together with its new mission to enhance supply chain CyberSecurity thought AirCyber program.
The attendees had the opportunity to understand deeply the objectives and the execution of the program, real cyber cases studies reports and experiences from Aerospace and Defense industry cyber-experts.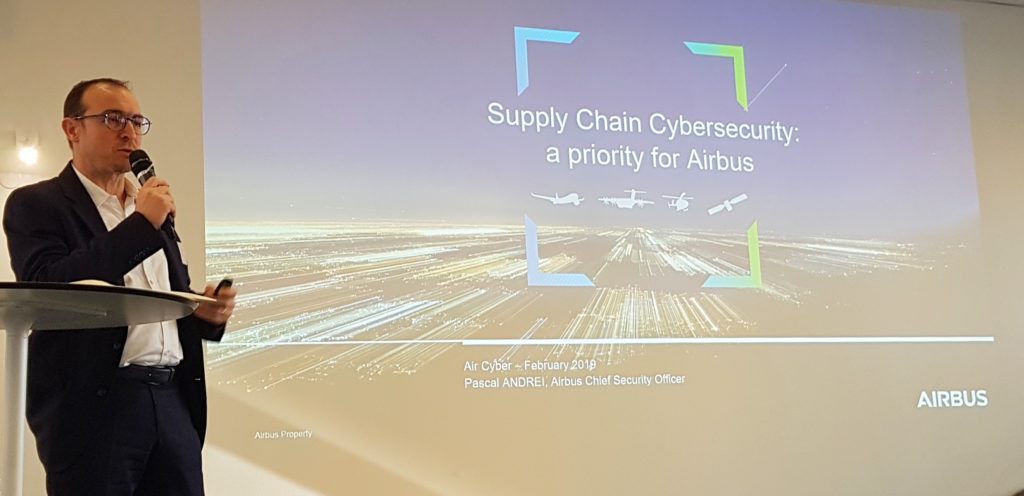 Pascal ANDREI, Airbus Chief Security Officer, presented how the supply chain CyberSecurity has become a key priority for Airbus. Stéphane Tonelli, Gendarmerie Group Leader and NTECH Cybercrime Leader, shared with us last cyber criminals modus operandi, and Philippe WOLF, Project Director EIC from IRT SystemX, presented results from the study performed on cyber-attacks and their damages to companies.
Stéphanie BUSCAYRET, Latecoère Chief Information Security Officer and Alan ZACCARDELLE, Airbus Cyber Security Senior Expert, joined us for the round table discussion during which real cyber crises, implemented good practices and effective security measures were shared and discussed with industrial suppliers.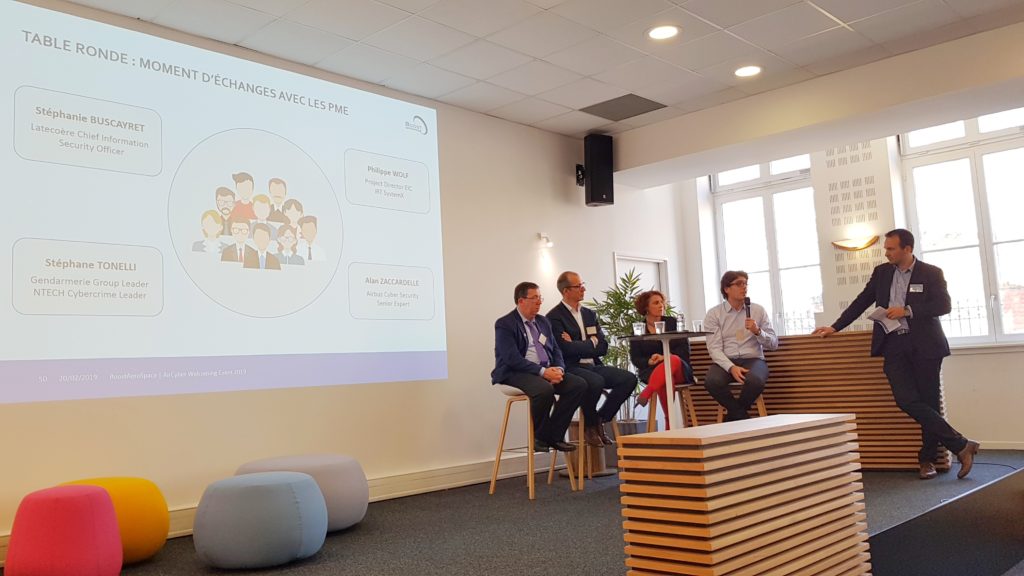 Altogether, they demonstrated that CyberSecurity turns out to be a collective priority for the Aerospace and Defense industry.
The answer lies in AirCyber, the Aerospace OEM-governed CyberSecurity support program that will increase Aerospace Supply Chain CyberSecurity resilience. Indeed, such program will enable both customers and industrial suppliers to act as a single company to protect against unbalanced threat of digitalization.
Given the participation and interest shown by the Aerospace and Defense supply chain, it has been a pleasure for BoostAeroSpace AirCyber Product Director Romain BOTTAN to present AirCyber program and animate this day dedicated to industrial suppliers.
Now it's time to enable BoostAeroSpace's customers to benefit from AirCyber collective services to combat the threat: with maturity assessments through OEMs validated surveys, sharing cyber documentation from OEMs, best practices, crisis management tool between trusted actors and through the dynamic catalog of trusted cyber products and services.

Subscription for the first 2019 wave is still ongoing; therefore, industrial suppliers are invited to join AirCyber in order to achieve the industry's standardization objectives for CyberSecurity protection as soon as possible.
AirCyber CyberSecurity products and service catalog proposed to industrial suppliers are also opened. If you are a supplier of CyberSecurity services or products to our shareholders or to industrial suppliers, feel free to get in touch with us.

A great THANK YOU to all participants and guest speakers. BoostAeroSpace is looking forward to supporting supply chain stakeholders in their efforts to achieve the industry's standardization objectives for CyberSecurity protection.
Associated Articles