–> Customer ? –> Direct Access to AirCyber Solutions urls (EN, FR)
–> Cyber solutions providers: AirCyber Catalog Invitation
–> Download the AirCyber Maturity Assessment Standard (EN, FR)
Standardization and harmonization of IT & IS security throughout the European Aerospace & Defense Supply Chain
Please find below the services put in place and at your disposal for the AirCyber deployment. 
AirCyber Services
New 2023 Services *
*Not included by default in AirCyber service offer
Context
The AeroSpace and Defense Extended Enterprise is composed of multiple small and medium sized companies, having usually their ICT managed in silos with limited capability to protect their business from cyber-attacks or even to detect they are subject to these attacks. However today, these companies are the first target of cyber criminals while being the less protected.
Over the past 5 years, the experience confirmed that attackers shifted their efforts to suppliers, as illustrated by multiple security issues reports.
Unfortunately, while having spent lots of efforts to secure their internal ICT, the security protections of BoostAeroSpace founders (Airbus, Dassault Aviation, Safran, Thales) deployed inside their ICT, are not deployed equally to their partners.
Therefore, in order to solve this urgent issue, BoostAeroSpace, together with the support and involvement of security specialists from Airbus, Dassault Aviation, Safran an Thales, launched the AirCyber Program.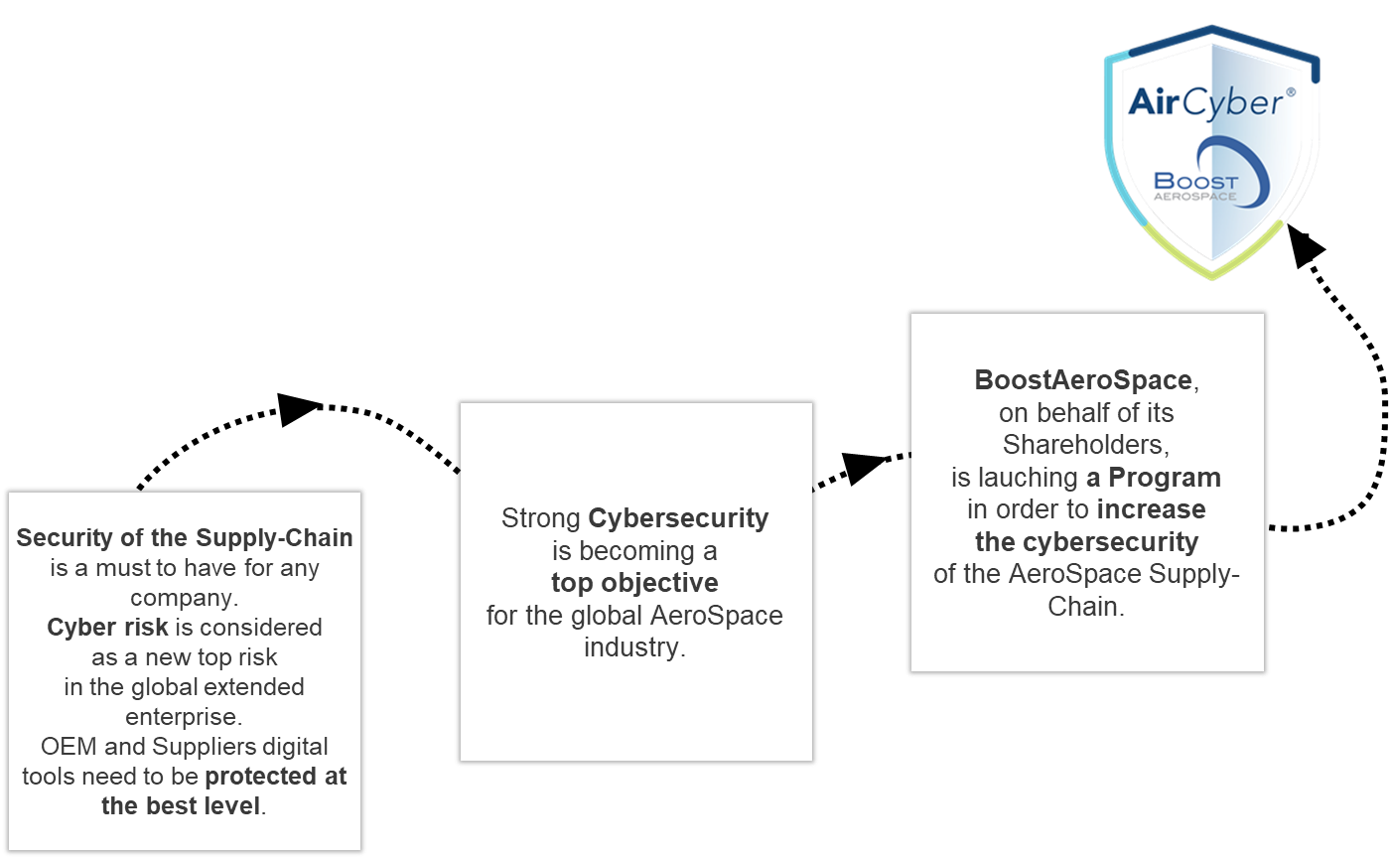 Aim of AirCyber Program
Above all, it is a Program for mutual support and maturity assessment initiated by OEMs of the sector. They are sharing their materials and expertise in order to enable their suppliers to access the same security level as their own.
The ultimate objective is to standardize and harmonize the cyberprotection level of the global industry.
By joining AirCyber, every supplier is able to make their information security efforts visible and acknowledged by the OEMs.
Main deliverables
AirCyber Continuous Maturity Assessment Services: On-site intervention to assist with the standard questionnaire, detailed safety report, renewed every 4 years. Update tool / Dashboard of levels.
Cybersecurity Documentation (studies, configurations, awareness) adapted from OEMs.
A dynamic catalog of proposed trusted Cyber services and solutions recognized in the industry, with a rating system and offering the possibility to identify those services and solutions already referenced either by OEMS or industrial suppliers.
A global awareness and collaboration CyberSecurity Plan (forums, events, etc.).
A CyberSecurity issue detection and alerts solution fully compatible with OEMs and interconnected with international CyberSecurity databases.

Why AirCyber is the good answer?
Aerospace & Defense Supply Chain (Extended Enterprise) finds in AirCyber both trusted Industrial Control System and Information Technology security services & solutions to enhance their own security resilience and a structured referential to make their efforts and maturity level ackowledged by their customers.
Subcription
The Program is available to any industrial suppliers and we invite them to join "AirCyber" in order to achieve as soon as possible, the industry's standardization objectives for CyberSecurity protection .
If you are an industrial supplier, do not wait any longer and contact us to join AirCyber Community by writing an email at :

The AirCyber cybersecurity solutions and service Catalog, accessible for AirCyber members only, is also opened.
If you are a provider of cybersecurity services or solutions to our shareholders or to industrial suppliers, feel free to get in touch with us by also writing an email at :