AirConnect
Improve digital continuity between Supply Chain mutualized platforms
AirConnect is a solution provided by BoostAeroSpace to improve digital continuity within Aerospace and Defense Supply Chain Extended Enterprise. The current exponential increase of Aerospace Supply Chain digitalization leads to more and more exchanges via mutualized platforms such as AirSupply.
AirConnect is an EDI (Electronic Data Interchange) that creates semi-automatic communication between AirSupply and suppliers' ERP (Enterprise Resource Planning) in order to ease their daily activities when it comes to Purchase Order (PO) processing.
Nowadays, there are three kinds of connections between AirSupply and the Supplier's ERP:
– Machine to Machine (M2M): A fully automated exchange system.
– Human to Machine (H2M): Supplier logs into AirSupply portal with its username and password in order to have access to all POs from its different customers.
– PO e-mail Access: Supplier receives an email with a link to its PO.
AirConnect targets the H2M population, which represents about 90% of AirSupply's worldwide connections (M2M + H2M).
Main Functionalities and Benefits
AirConnect offers the following 4 functionalities to users:

AirConnect is stored on supplier's server and accessible through a browser. Data from customers and suppliers' portals are stored in AirConnect. They are associated and compared in order to process customers' purchase orders more easily. This data can be imported and exported from/towards the ERP and can also be stored in AirConnect for a long period of time.
As main benefits from deploying AirConnect, Suppliers will be able to lower number of key-in errors, increase reactivity, decrease workload, and focus on higher added value activities. It will also improve digital continuity between OEM and SMEs.

Besides, the user friendly and ergonomic environment, as well as visual features from AirConnect, will allow suppliers to make PO reviews, documents generation and data comparison simpler.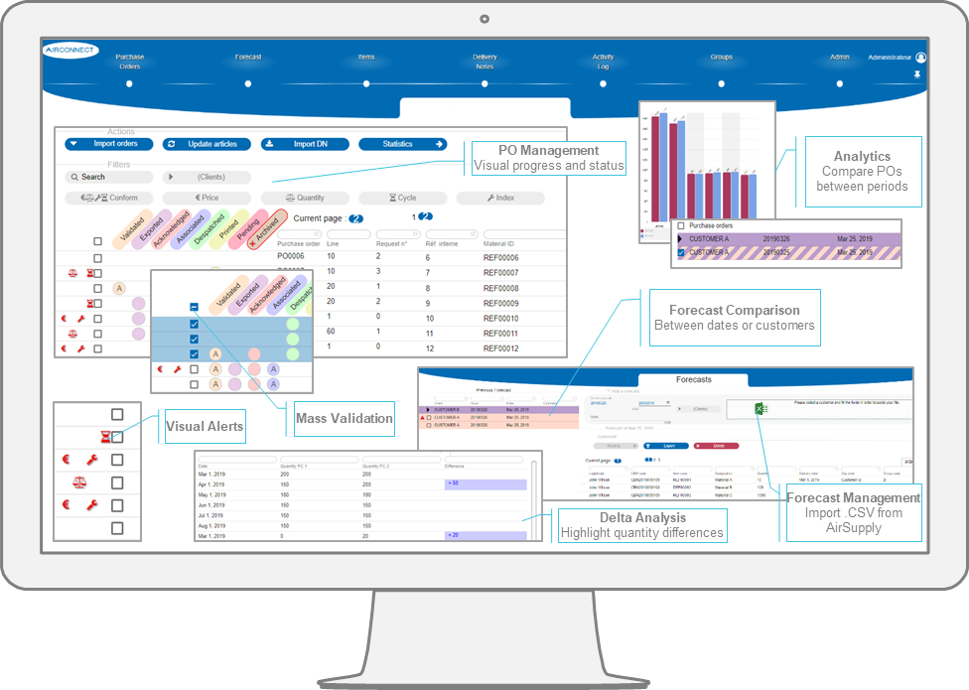 AirConnect Deliverables
AirConnect deployment includes the following deliverables:
– Deployment of AirConnect on the supplier's server. All settings and synchronization between the SME ERP and the AirSupply portal will be ensured by BoostAeroSpace via their service provider.
– Documentation : Technical-functional specifications, User Guide (EN/FR), security guidelines.
– Training to learn how to use AirConnect as a user and as an administrator.
– Support via dedicated platform : FAQ, video tutorials, bug fixing, helpdesk service.
Feel free to contact us for any further information: