AirCollab
The secured collaborative platform
AirCollab is a collaborative solution with associated services, based on cloud technology, used as a mean for secured project collaboration within the aerospace extended enterprise. The platform allows common management of key elements such as documents, tasks, lifecycle, search, communities etc…

AirCollab enables a smooth synchronization between all types of stakeholders external to a company. Using AirCollab is relevant in various contexts: project collaboration, call for tenders, documentation and information sharing, feedback, debate…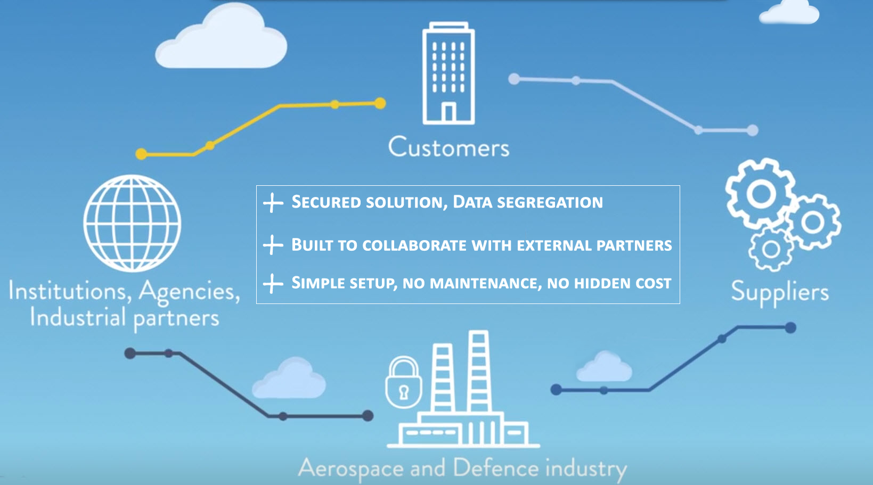 4 main drivers to adopt AirCollab
Security: Solution is based on European cloud operated by Outscale (certified SecNumCloud).  The level of security has been defined and approved by BoostAeroSpace founders and their respective Chief Information Security Officers (CISO).
Easy to implement: Once company and project team have decided to use the platform, implementation process is performed with reduced IT constraints. Then identified users need a subscription in order to use it. The solution is intuitive and users easily handle its functionalities.
Cost effectiveness: Pay per user model allows total cost of ownership optimization. Subscription contains all in one: software use, maintenance, support and regular upgrades.
Aerospace & Defense standard solution: Approved by BoostAeroSpace founders and designed to be deployed across the whole industry.
About Dassault Systemes

Dassault Systèmes, the 3DEXPERIENCE Company, provides business and people with virtual universes to imagine sustainable innovations. Its world-leading solutions transform the way products are designed, produced, and supported. Dassault Systèmes' collaborative solutions foster social innovation, expanding possibilities for the virtual world to improve the real world. The group brings value to over 250, 000 customers of all sizes, in all industries, in more than 140 countries.
For more information, visit www.3ds.com