AirCyber Catalog Invitation
Dear Sir or Madam,
We are pleased to inform you that the catalog of CyberSecurity products and services recommended by the Aerospace community to the AeroSpace community is available online! 
If you are proud of your solutions, and have happy AeroSpace customers (or soon), we would like you to reference your cyber solutions to enrich the recommendations for trusted cyber solutions that would help our industry to better protect from Cyber issues.
It's free, we just ask you to play the game: respect privacy rules of this community (read and accept the general conditions) and, if you can, participate in the cost reduction of Cyber Solutions acquisition by the community proposing interesting conditions to buy your solution. 
BoostAeroSpace is a neutral hub, we do not participate in the selling of your solutions, or influence/participate in any purchasing decision.
We only propose a secure way for Cyber professionals and AeroSpace Cyber community to collaborate to identify the best solutions to their cyber needs.
AirCyber Catalog was launched in 2019 with a first list of 100 trusted CyberSecurity solutions and 50 members, the target is to be updated by all community members (2000 industrial companies worldwide end of 2022) and all Cyber Solutions vendors.
In December 2021, more than 190 suppliers companies were connected searching regularly for solution among the 370 referenced today, with 168 "AirCyber Trusted" solutions.
You will see the list of your AeroSpace customers as soon as they will validate your solutions' effective deployment in their company (they can also decide to not be listed). Customers list of deployed cybersecurity solutions is confidential and not shared between members, as well as entire catalog content for a solution provider: you will only see your solutions.
AirCyber community members list is not confidential but not released publicly, disclosed on a need to know basic, to let you understand who could be your customers using AirCyber community here is a sample list of first 2019 members:
AeroSpace OEMS: Airbus, Dassault Aviation, Safran, Thales
AeroSpace Intermediary Industrial Suppliers: (Latecoere, Liebherr, Daher, Auber et Duval…), Small and Medium sized (MapAero, SudAero, Adhetec, Oxytronic, Amphenol Socapex…).
You can, also, look at AeroSpace industrial companies public directories like French GIFAS one.
Among the years new functionalities will come, you will be notified of improvements and you can of course propose any evolution to us.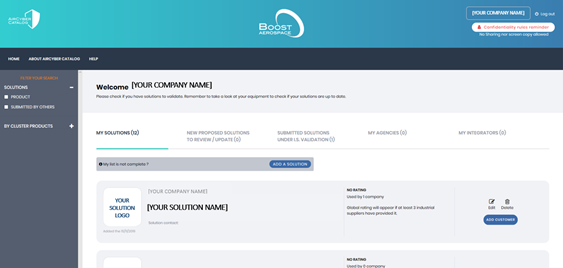 AirCyber program was launched by BoostAeroSpace and its Shareholders (Airbus, Dassault Aviation, Safran and Thales) in their efforts to enhance cybersecurity of the Aerospace and Defense Supply Chain using BoostAeroSpace as a central Hub; it aims to propose security solutions for industrials suppliers with a progressive approach.
AirCyber catalog main mission is to put at Aerospace and Defense SupplyChain di
sposal a central repository of trusted Cybersecurity solutions:
Adapted to the specific requirements of the Aerospace and Defense SupplyChain
Offering a means of measuring the deployments of solutions to guarantee the rise in the protection level;
Constantly updated based on supplier's implementations and enriched feedback to identify the best services and products to implement.
We invite you to create an account and manage your solutions through the platform. Referencing your cyber solutions in AirCyber catalog has no associated costs: